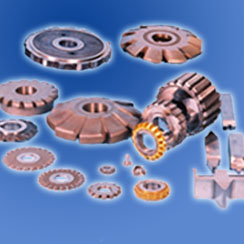 Jainex Aamcol offers precision form relieved ground or unground profile cutters ranging from standard single angle, double andgle, convex/conclave cutters to most complex intricate profile cutters like end mill type gear cutters, spline milling cutters, turbine blade profile milling cutters, etc.
These milling cutters are made out of high alloy super high speed steel; with precision ground or unground forms; with straight or helical flutes for shear cutting; continuous or intermittent (staggered) cutting teeth; with or without chip breakers; radial, positive or negative rake tooth faces; with radial, axial or undercutting clearances; individual, gang or solid sections. As cutter teeth are cam relieved, only rake faces need to be sharpened with changing the tooth form through their full life. Cutter accuracy is maintained as long as they are accurately resharpened. This simplifies tool maintenance and provides more consistent quality. These cutters provide high degree of accuracy and efficient cutting geometry and hence ordinary cutters can be comparable in no way with these Jainex Aamcol special cutters. Some important applications of these cutters are highlighted below:
* Spur gear teeth milling for specific number of teeth or in sets of 8 and 15 cutters of IS or BS standards.
* Sprocket teeth milling cutters, precision ground or unground profile
* Rack teeth milling of highest accuracy, single or multistrand, precision ground or unground profiles
* Worm thread milling, roughing or finishing, ground or unground form
* Spline milling on universal or HURTH type machines
* Special serration milling on m/c chuck-jaws, automobile con-rod jaws, etc.
* Special narrow & deep groove milling on automobile con-rods
Hi-Bite Mills, "Do-All" Cutters
Heavy duty cobalt bearing super HSS Hi-Bite multipurpose mills, shank type or shell type designs are manufactured in various diameters as per DIN 844 and DIN 845B or to customer-specific requirement and provide the following advantages:
* The most versatile milling cutters
* The ability to take heavier cuts at higher speeds with less chatter and vibration
* High rate of metal removal with minimum Horse Power
* Removes metal at the higher rate with less deflection than conventional end mills
* Tooth form provides excellent heat dissipation during heavy cutting operations
* Unique computer generated tooth profile designed for excellent chip breaking characteristics
* Wide applications like in die-shrinking, horizontal boring, universal milling, CNC machining centres, etc.
* Also supplied with special large profiles with helical flutes for finish die sinking, form milling, etc.
* The cutters are form relieved which means simplified resharpening with no change in tooth profile